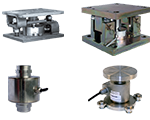 Load cell for weighing solutions
As the key component essential to all weighing systems, our large range of sensors meets most industrial needs for their weighing solutions : analogue or digital signal.
A load cell is a physical element (or transducer if you want to be technical) that can translate pressure (force) into an electrical signal.
We have numerous weighing load cells such as compression, shear beam, tension, bending depending on the needs and constraints of use : stainless steel, nickel-plated or aluminum sensor ....
OIML R60 approved for legal-for-trade applications.
When needed, our mounting kits enable simple and fast integration of the load cell.
This type of low profile Stainless steel compression load cell is particularly suited for silo weighing. Lots of template of assembly kit for a simple and quick integration under silos feet, machines, hopper...

More