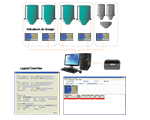 Software
At Arpege Master K, we develop a standard range of weighing and dosing software based on over 20 years of experience.
Using the right software can transform your weight data into powerful information, which allows you to analyse and optimise your operations thanks to a better weighing solution.
You can pair all our weighing scales and weighbridges with user friendly interface software systems that will take your data and provide you reports in order to identify trends and anomalies that can have a real impact on your business.
Our range of software meets all the needs of industrial weighing process such as weighing on weighbridge, dosing process or access control.
We're also able to provide tailor-made solutions to meet your specific needs.
Dosing software suited for IDE250 dosing indicators

More

Weighing software for managing weighridges on PC WINSTAR weighbridge weighing software is a comprehensive software can manage up to 4 weighbridges. Several additional modules are available for a weighing solution with this software: container weighing access control billing radioactivity management multisites multi users multilanguages, etc. The weighbridge PC software WINSTAR allows the connection up to 8 […]

More