Bag2R: weight indicator for airport with ethernet option
Description of the Bag2R weight indicator, the airport weighing scale that communicates
Our Bag2R is a weighing indicator dedicated to luggage at airports "check-in".  As an airport weight indicator, it works with a platform scale. As a result, it constitutes the perfect weighing solution dedicated for airports.
After the Magic AERO, our R&D team developed a new weighing product : the Bag2R. One difference with our Magic Aero ? Bag2R has the ethernet option !
Approved for legal-for-trade transactions , its dual display consequently allows a client-host use.
Moreover, Bag2R is compatible with most standard analogue load cells. Therefore, it may be associated with a single or 4 load cell scale. It may also be associated with a roller conveyor.
It consists also of a housing. This housing include two opposite high brightness displays by red LED.
.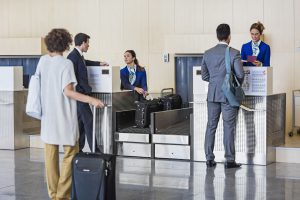 Watch the video to know more about Bag2R
.
Advantages of the weight indicator for baggages at the airport:
Space saving : no need to have two conveyors;

Time saving : no need to wait until the passenger leaves the check-in desk for the weighing of  new passenger's baggage;

Easy to use by the flight attendant and quick to understand;
– operator interface : the bar graph shows the weight progression and gives heavy bag detection alert, warning message with programmable setpoint.
Adjustable display contrast & brightness. Diagnosis features with digital load cell.
English, French and simplified Chinese.
– passenger interface : simultaneously displays with adjustable brightness prompt warning message for heavy bag and overload warning
Easy and quick to install.
Only 2 screws are needed (plans and dimensions are in the product sheet below).
Function of the Bag2R weight indicator as a baggage weighing scale:
Weight display for the client side at the check-in :
"WEIGHT" of 5 numbers
"TOTAL" of 6 numbers
"BAG" of 3 numbers
Weight display for hostess side at the check-in :
As a result, high precision display with 8 key buttons :
– Add bag, remove bag, belt start
– Clear, zero, kg/lb switch
– Power ON/OFF
Feature of the Bag2R, luggage scale at the check-in:
Standard Power Supply : 12 V
Infrared sensor : 5 V
Analog connection : 1 to 4 weighing sensor of ohm
Temperature use : – 10 °C / + 40 °C
Temperature storage : – 20 °C / + 60 °C
Maximum precision of weighing : 6 000 scales divisions accordance with standard EN 45 501 : 2014 / OIML R76-1:2006 class III.
Packing information / dimensions of inner box:
Operator parcel : 20.1×16.6×10.2cm (0.63kg)
Passenger panel : 16.3×11.3×9.3cm (0.35kg)
Adaptator and cables: 15.8×8.9×3.5cm (0.15kg)
Download the technical file below to know more and you can also contact us.
Bag2R is a weighing indicator from our airport product range. You can also find our second weighing product : the MAGIC AERO, dedicated to luggage at airports "check-in".