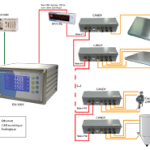 Weight Transmitters & Measure Converters
A weight transmitter and a measure converter are integral parts of an effective weighing system. They are mostly used in the process industries to connect several weight indicators together or to convert data.
Arpege Master K's weight transmitters and measure converters enable the communication between the measuring strain gauges load cells (weighing) to the weight indicators and other PLCs, computer or PC.
The high quality products of our range meet all the industrial needs and help you to improve the efficiency of your weighing system.
From our MasterCan range to our IDe 500 and our CANDY transmitter, you will be able to find the perfect solution for your business.
Weight Transmitter – Can-MK-MES The weight transmitter Can-MK-MES is a high-performance, autonomous solution for weight measurement in automation networks for belt weighing applications (Continuous Totalizer).

More