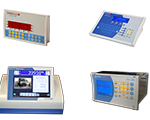 A wide range of indicators to all weighing activities. Designed for use in any situation they may be placed on a tabletop , wall mounted or mounted on column.
IDTB 650 Multichannel indicator for Weighing terminal ...

 IDe150-250 Multifunctions. Multifunctional weighing ...

LOGIC 100-200 indicator  The LOGIC 100/200 indicator is ...

IDL 55 Weighbridge Weighing terminal compatible with …

Multifunction weighing indicator Compatible with ...

MAGIC indicator- Compact industrial weighing indicator

IDe500 – weighbridge- Weighing terminal ...

IDe 500 I concentrator up to 12 scales . Terminal ...

The IDe 150/250 'Industry' software meets ...